Sarah Louise Harris Model of the Month April 215 interview
You elect
Sarah Louise Harris
as your
Model of the Month April 2015
(click
here
to access the full results). Really busy in the States and overseas these last weeks,
Sarah Louise
has finally kindly answered
our exclusive interview
.
Hi Sarah,
I started following your Twitter account in September 2014 and from then on I was hoping you would become a Playboy model. So I was delighted to see your first Playboy Plus set in March and now I'm glad that A Tribute to Playboy fans have elected you as their Model of the Month April 2015.
Prior to Playboy, you have made some non-nude shot for FHM, Maxim, Playboy Mexico and you were a contestant to Playboy Miss Social. Was becoming a Playboy model a dream comes true ?
It was always something I longed for as a teenager yes, I wouldn't say it was a "dream" however it was always a goal of mine. It's only the beginning of my opportunities with Playboy. I'm really looking forward to exceeding my goals within the Playboy franchise and achieving my dream of becoming a Playmate.
Now that you're a Playboy model, do you see any differences in the modeling opportunities coming ?
Most definitely, after shooting nude it definitely alters the path you take within the modelling industry. Both positively and negatively unfortunately. Of course now I've taken that initial step there's no going back, so I'm planning on taking it all the way with Playboy.
I wish you the best in your Playboy career. As you're used to travel all around the world, I hope one of the International magazines will select you as a Playmate. Did you already have been contacted by a foreign edition of Playboy ?
I have been contacted by two different countries… watch this space 🙂
Wow that looks great! I'm sure everybody will watch over your Twitter account to get news about these contacts. I recently saw the video you made as a Sexy Pilot for Babe Method. I love the bedroom part but was it the first time you take control of such a small plane?
It was the first time I'd flown a plane! It was absolutely terrifying to begin with, but it's something i'll definitely do again!
Click the picture to view Sarah Louise video for Babe Method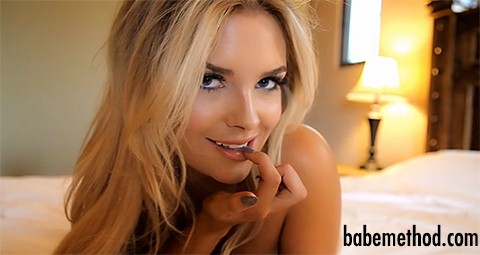 Do you have planned to stay in the States for long ?
I'm definitely planning on coming back to the US, as frequently as possible. I've travelled to 28 states and California is my favourite place I've been to so far, out of anywhere. So I'm in the process of organising shoots and other paid modelling work over there so I'm able to head back over for a more extended period of time.
Some may say your breast is your best asset, but if I say your smile is your best asset do you agree ?
Most definitely, a smile and a persons eyes are their best assets in my opinion. I've been told my smile lights up a room, I wouldn't exactly say my boobs have the same talent lol
What should a man do to attract your attention ?
To get my attention all you need is a dog! It takes me so long to get anywhere as I'm forever stopping to introduce myself to every dog that I pass. Aside from that you would grab my attention by being compassionate and caring, confident but not arrogant. Arrogance is my least favourite quality in a person!
In the States, nude modeling is considered as porn. In France, nude modeling is considered as an Art because we are used for long with nude & topless Cabarets and with nude actress in movies. How are perceived Playboy models in New Zealand ?
That's a great question! In New Zealand everyone is so shocked and amazed that you've been accepted to work for such a recognised brand that they don't seem to think too much further into it. Well that's my experience so far anyway, we will see what the future holds on that topic.
A question that no american will ask you. Are you an All Blacks fan ?
Growing up in a small country community in New Zealand you're always exposed to a lot of rugby. If I wanted to stay up late on the weekends and sleep in the lounge I would have to watch the game! So I guess you could say I'm an All Blacks fan, I rarely watch Rugby nowadays… unless it's a big game of course. If that's the case then I'm a serious All Blacks fan, screaming at the television and all!
Thank you Sarah for your answers and I join all fans who voted for you to wish you all the best to become an International magazine Playmate soon, we would be so happy to admire you in some more Playboy pictures!
Frederic Stephan
Playboy fan for 30 years !